Backed by the highest safety, quality and environmental certifications in the industry, we offer a full range of planned, reactive and emergency electrical services via our team of licensed electricians, ACMA registered cablers and certified high voltage operators
Infrared Services provides clients across Western Australia with access to around the clock support 24 hours a day, seven days a week. In an emergency situation we can have an electrician on Perth metropolitan sites within a matter of hours and within 24 hours on most regional sites.
Service ethos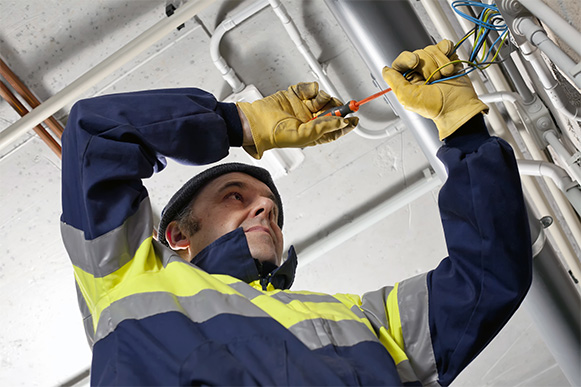 Our objective is to exceed clients' expectations 100 per cent of the time. Our experienced team takes pride in delivering excellent quality workmanship and friendly, professional service on every job they undertake.
We understand the most important thing is to minimise any disruption to your business and provide you with a customised solution that works, on time and within your budget.
With a strong track record in providing innovative electrical solutions that are focused on delivering the best outcomes for our clients, we have earned our reputation as  a trusted industrial and commercial electrical contractors and thermographic contractors in Western Australia.
What makes us different
At Infrared Services we are proud to have earned our reputation as one of WA's most trusted commercial and industrial electricians by setting new standards in safety and client satisfaction. We lead the market through:
We maintain an independently JAS-ANZ certified integrated management system encompassing ISO45001 Health and Safety Management, ISO9001 Quality Assurance and IS14001 Environmental Management
Continuous investment in professional development of our employees

Continuous investment in new, state-of-the-art equipment and plant to ensure the highest levels of service

ISO9001 certified Quality Management system
Every member of Infrared Services' experienced team takes pride in delivering excellent quality workmanship and friendly, professional service to every client on every job.
Infrared Services is fully committed to providing employees with a safe workplace. Our OHSE management systems have been independently audited and certified to the internationally recognised AS/NZS4801 standard.
Infrared Services is committed to the continuous professional development of all our staff and this is reflected in our annual training budget. You can rest assured that not only are all our employees fully certified for the work they undertake, they are up to speed with the latest industry advancements and practices.
Infrared Services is known for the superior quality and professional presentation of our reports, which provide the detail, quality and clarity our clients are looking for.
Infrared Services also understands the most important thing to our clients is minimising any disruption to their business and maintaining a safe environment. That's why our focus is on providing customised solutions that works, on time and within the clients' budget.
Our back-end processes and procedures are as innovative and efficient as our client-facing services. We are continually utilising new technology to deliver a better, more efficient service.
By keeping one eye to the future and maintaining a commitment to the delivery of excellence in the present, Infrared Services is able to remain agile and response and maintain its position as a leader in the WA market.
Property management
At Infrared Services we have extensive experience and expertise in providing comprehensive electrical services to commercial, retail and industrial property and facility managers. In fact, if you are a property or facility manager based in Western Australia then we are very likely already on your vendor list. Our managers and field service technicians fully understand the nuance and challenges of property and asset management because we have been involved in the industry for decades.
We understand the importance of:
Being punctual, polite and professional
Reliability; we show up when we say we will and deliver the results we promise
Presentation; our technicians and vehicles are always well presented and professional because we understand that's what your clients and tenants expect
Communication; we keep our clients updated and in-the-loop at all stages of the project life-cycle, no matter how small the job might be
Responsiveness; we treat all jobs, no matter how small, with the highest level of priority. We understand that something as simple as a flickering light or a faulty power point can be a major inconvenience to your client or tenants
Risk management; we are backed by the highest levels of certification available in the industry and compliant with all major induction and contractor management systems (CM3, RapidInduct, Sassi etc.)
Comprehensive services; our extensive portfolio of electrical services and experienced team of managers and technicians means we can handle any job you throw at us. From transformers through to power points, from lighting through to lightning protection we are able to service and maintain your entire electrical infrastructure.
Team
All client accounts are overseen by one of Infrared Services' managers.
On-site services are delivered by of our team of:
Licensed electricians;
ACMA registered cablers;
Certified high voltage operators; and
ASNT, AINDT and BINDT certified thermographers
Every member of Infrared Services' experienced team takes pride in delivering excellent quality workmanship and friendly, professional service to every client on every job.
General Manager – Liam Mitchell
Liam is a qualified electrician, high voltage operator, AINDT/PCN level 2 thermographer and ASNT ultrasound inspector with more than 15 years industry experience.
He has a proven track record in planning and execution of complex and technical improvement and service projects from design through to commissioning. Liam regularly manages power distribution and metering upgrades, power quality improvements and high and low voltage switchgear and distribution maintenance for a range of clients. He also has extensive experience in managing and executing holistic electrical maintenance and inspection programs in large commercial, retail and industrial properties.
Liam oversees Infrared Services management team, key client accounts and contracts and ensures our stringent quality control and safety standards are met.
Operations Manager – Neil Otway
Neil is a qualified electrician, high voltage operator and thermographic inspector with AINDT, PCN and ASNT level 1 certification. He has more than 20 years experience in the electrical industry.
Neil has managed large and complex service projects for a variety of clients. Neil has directed service and compliance inspections for installations across a diverse variety of sectors; marine, oil and gas, mining, commercial, retail, medical and heavy industry.
Neil oversees Infrared Services maintenance and operations team and ensures that our high level of workmanship and customer service are maintained.
Service Manager – Craig Woodbridge
Craig is a qualified electrician and ACMA cabler. He has more than 20 years' experience in the industry.
Craig has managed large and complex installation and maintenance projects for a variety of clients across numerous different industry verticals. He oversees the Infrared Services electrical service and projects teams, managing work ranging from minor reactive maintenance and installation through to large scale turn-key commercial and retail fit outs, lighting upgrades, power distribution and switchboards upgrades and more.
Compliance Testing Manager – Jenny Lees
Jenny is an experienced electrical administrator and has been with Infrared Services for more than 9 years.
Jenny manages all routine compliance testing, inspections and reporting. Her role requires coordination between tenants, building/facility/property managers and Infrared Services internal compliance team. Jenny ensures the electrical assets of all our clients are safe, compliant and well maintained.
Accounts Manager and QSE Coordinator – Vikki Western
Vikki is an experienced accounts administrator and book keeper and looks after all accounts payable and receivable.
Vikki also coordinates QSE compliance across our organisation and ensures ongoing compliance with AS4801, ISO9001 and ISO14001 requirements.
Health, Safety, Environment and Quality
Infrared Services maintains a firm commitment to the highest standards of HSEQ management and compliance across our organisation.
View our policy statements below: